About Dan's Air Conditioning in Birmingham
www.dansair.co.uk Your local AC specialists
About Dans Air Conditioning :
Dan's Air was started in 2004 in London offering mobile air conditioning services. Dan had previoulsy been working for Alpinair in West London. Alpinair is one of the UK's leading car and van air-conditioning repair and retrofit companies that has been going strong for over 40 years. Dan spent 7 eventful years working with Alpinair starting in 1997 , gaining wide and varied experience with all types of air conditioning systems in all types of vehicles.
Back in those days ( the late eighties and 90s) many cars did not come with air conditioning as standard ,as they do now. We spent many years fitting AC systems to brand new Mercedes W124s SLs, BMW 5 &7 series and Porsche 911s , just to mention a few. See some Alpinair workshop photos during my time working there , Porsche air con retrofitting and Mercedes air con fitting for cars with no OEM fitted systems.
Dan's Air has been operational in London for the past 19 years offering air conditioning services to the public and trade alike. This could be at car showrooms, body shops, car restorations workshops , camper van /motor homes sales and repair dealers. Agricultural equipment on farms e.g. tractors , commercial vehicle companies - trucks , loaders , dozers & trucks.
In 2021 Dan's Air moved to Birmingham closing a long chapter of London operations. Dans Air is based near the Marston Green area of East Birmingham, West Midlands.
Dans Air can attend your home if you are a classic car collector and have a private collection of classic sports cars that need air conditioning maintenance. You can find some photos of these types of cars here.
Unlike many other companies, Dans Air does not just offer simple regas work, Dans Air offer diagnostics, fault finding and repair of your system. This includes hybrid electric vehicles. AC pipework replacement and repair is available as well as fitting AC systems to cars or vans that do not come with it as standard. We only focus on vehicle AC systems we don't offer MOTs or car servicing.
Dan's Air is based in Marston Green and covers Birmingham & Coventry , the West Midlands, as well as the surrounding areas, offering mobile car air conditioning services and workshop facilities, fault finding, leak detection , air con recharge, regas , repair and service.
Tel: 07946 240 968 200 Laburnum Ave, Birmingham B37 6AN
More about Dan's Air Conditioning Services Birmingham : -
Dan's time at Alpinair London : -

Some photos of jobs in progress whilst working at Alpinair in 2003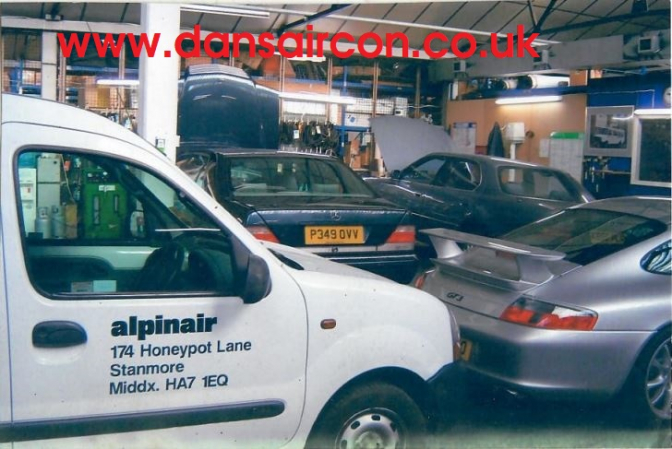 Below Porsche GT3 in for AC fitting , strip down to lay cables and pipe work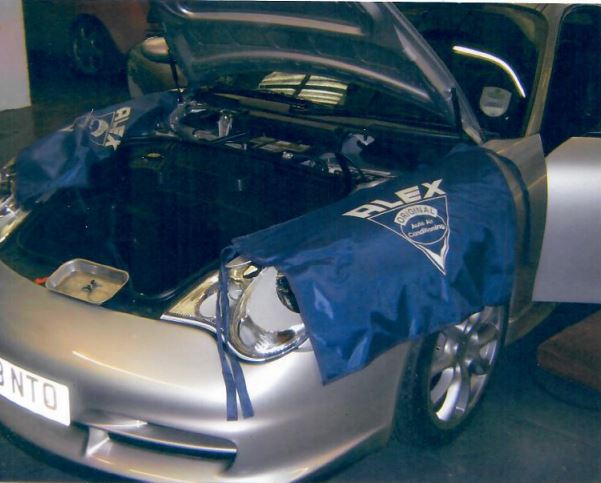 Porsche GT3 below: Dashboard removed and stripped down to fit cables and controls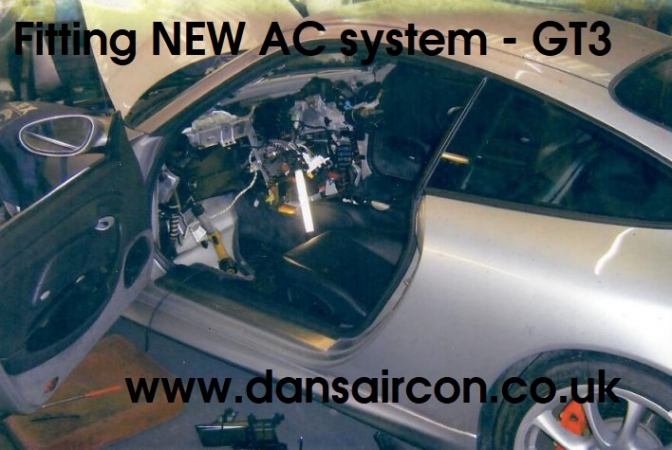 Photo below: Dan working on the Porsche GT3 work in progress in the workshop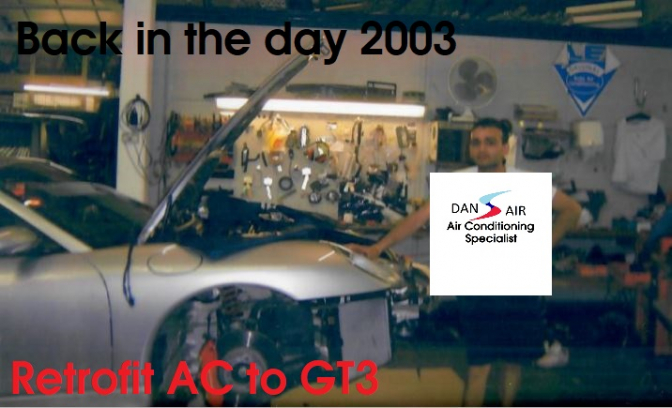 Dan's Air is independently run and owned. All trade marks,logos and registered names are the property of their respective owners.
Tel: 07946 240 968 200 Laburnum Ave, Birmingham B37 6AN